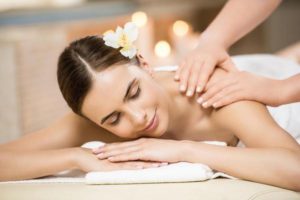 Welcome to Sofia salon!
We offer a comfortable environment, friendly staff, peace and coziness. High quality service is definitely the hallmark of our salon.
In our salon, first of all, you can relax, forget about the bustle of the city and problems. Ultimately, you will leave the salon completely transformed.
Our certified masters with extensive experience do the best massage in Riga. Salon Sofia offers more than 50 types of massage and SPA treatments for face and body.
In addition, our salon offers - a unique Split - massage: the sculptor of youth. An affordable way to manually correct age-related changes in the face, neck and décolleté area.
We also offer Anti-cellulite massage, Aromatherapy massage, Ayurvedic massage, Classic massage, Hot stone massage, Lymphatic drainage massage, Chocolate massage and other types of massage
In our salon you can also buy gift cards for any amount, or a certain procedure.
You can get advice and sign up for the best massage in Riga by calling +37126222120 from 10.00 to 20.00
Our salon is working by the principle:
Affordable prices + Highest quality = Guarantee on all type of services!
ALWAYS GLAD TO SEE AND ALWAYS WAITING FOR YOU!
Share: