Split massage Manual face modeling / Vacuum massage with cosmetic vacuum jars
SPLIT massage Manual facial modeling / buccal (through the oral cavity) / free diagnostics - Facial rejuvenation without injection The required number of sessions from 3 to 7 depending on the condition of the face - Absolute contraindication for this massage - non-absorbable threads, eye surgery, ear disease surgery / throat / nose - within 6 months, injections after 2 weeks, chemical peeling after 1 month is possible for massage) The procedure is comparable to sports for the body. First, you need to take an intensive course once a week (from 3 to 10 times), and then to maintain you can walk once every 2-4 weeks.
Indications for split massage:
✓ Wrinkles on the forehead
✓ Loose eyelids
✓ Bags and dark circles under the eyes
✓ Cheek dips
✓ Puffiness in the area of nasolabial folds
✓ Double chin
Absolute contraindication for this massage is non-absorbable threads.
Interoral massage - A lot of aesthetic problems: dark circles under the eyes, lacrimal groove, deep nasolabial folds, puppet wrinkles are associated with the condition of muscles, attachments and ligaments, which can only be "approached" through the oral cavity.
Vacuum massage for facial treatments
It is used to reduce edema, train (strengthen) the walls of blood vessels, smooth out mimic and age wrinkles, improve skin tone, lift, during the rehabilitation period after applying methods of facial plastic surgery. In some cases, it is performed to cleanse the skin of the face.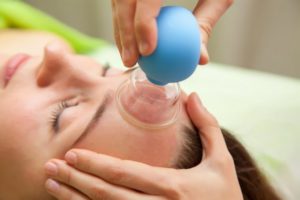 Share: